How are you?
I am good. How are you?
HELLO THERE
GENERAL KENOBI YOU ARE A BOLD ONE
Storyline:
Obi Wan jumps in behind Grievous and says HELLO THERE
Grievous then replies "You are a bold one"
Grievous arms split in half and he has four lightsabers then they fight and stuff and Obi Wan wins and says that Grievous is so uncivilized.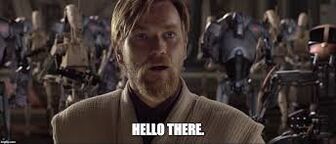 Community content is available under
CC-BY-SA
unless otherwise noted.