The AVGN (or the Angry Video Game Nerd as his full name) is a reviewer that reviews video games. He had two pilots in 2004 but officialy started in 2006.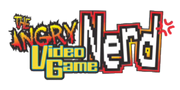 In 2004, James Rolfe finished college. He returned to his parents' home and came up with an idea. He would review Castlevania II: Simon's Quest. He started recording and talking about the game. He used profanity quite a lot. James Rolfe quickly used the same method on another game which he thought was the worst game of all time: Dr. Jekyll and Mr. Hyde. This is the first instance of James Rolfe using a staple in the history of the Nerd, drinking Rolling Rock. He decided to show it to his friends.
Christmas Specials
Edit
Every Christmas, the Nerd goes out of his way to make a memorable Christmas special. Here are all of them:
1. Bible Games
2. Christmas Carol
3. Bible Games II
4. Winter Games
5. How the Nerd Stole Christmas
6. Bible Games III
7. Wish List
Planet of the Apes
Edit
AVGN would then review the Planet of the Apes video game for PlayStation, which is how most people know of it.
Community content is available under
CC-BY-SA
unless otherwise noted.